How many times have you gone to a wedding and sat out every dance?  Didn't you wish you could get up on the dance floor and enjoy yourself?  Well, what's stopping you?  "Him.  He won't take dance lessons with me."
Well, why the heck not? Let's take a look at some of the top secret reasons why a man doesn't want to take dance lessons.
It's not his thing. 
Believe it or not, some men feel that dancing is too girly and 'real men don't dance'.  This couldn't be further from the truth.  
By taking the lead on the dance floor, a man proves he's willing to do what it takes to make his woman happy.  That's a smart move.
It's her thing. 
Women tend to be more relaxed and comfortable on the dance floor.  Although most everyone feels awkward when they first start to take dance lessons, ladies are just so happy to be there that they let it go.
Men, not so much.  
Mostly they're uneasy and disconcerted by the fact that what should be a simple social activity is a mystery to them.  Some men are embarrassed that they don't already know how to dance.  And now they feel forced to take dance lessons which are definitely out of their comfort zone.
Fear plays a part, as well.  
Your man may question his ability to learn to dance and be anxious about even trying.  A lot of men are nervous when they feel other people are watching them.  We can understand that, can't we?
But, ladies, check yourselves…are you sending out the right vibes to get the job done?  
You know your man and how to go about getting his cooperation when it comes to improving the partnership.
Pressuring your partner to take dance lessons will backfire on you. 
Instead of spending some quality time together, you may end up with someone who is annoyed, even angry.  Add to that he's been so busy and he's tired.  You've got a man who has no problem sitting out all of the dances.  As a matter of fact, he may consider it a victory of sorts.
Age can be a factor. 
If you and your partner are young, he may feel ballroom dancing is for old people and he's not ready for the rocking chair.  If you're older, it's "Aw, dancing is for the young folks!"  (Yes, old people say 'folks'.)
The benefits that support learning to dance (at any age) are many and include:
Increased physical fitness

Beautiful posture

Relief from stress.  
It comes down to this.  Today's active lifestyle means couples can be pulled in many directions.  The work, the kids, the house, and the aging parents all require our attention.  But what about the "us"?
Ballroom dance teachers know that couples who take dance lessons are happier than those who don't.  I wonder why?
Happy couples find a way to make time for each other when they take dance lessons.
It's fun to get out of the house (and your rut) and learn something together.
A scheduled date night is great for the team.
How about we throw in all the beautiful, romantic music and lots of touching?  Full body style!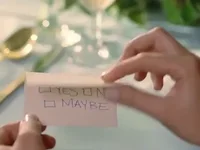 Ladies, my hope is that this post will open your eyes to the perceived challenges a man faces when he's asked to take dance lessons.  Perhaps you'll read it with him and a dialog will open allowing you to make the life-changing decision to learn to dance together.
If you enjoyed this post, please LIKE and SHARE below so that others can enjoy it, too.  Thanks!